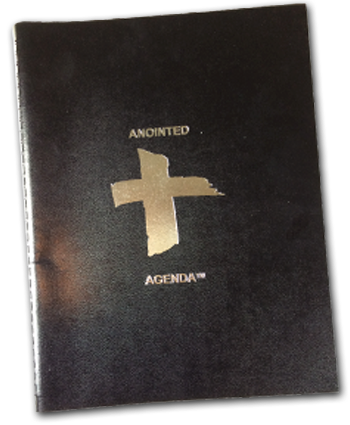 Anointed Agenda – Black
The Anointed Agenda is a Christian organizer that marries personal and professional plans with the Word of God. This powerful planner features Scriptures on one side and poetic quotes to support the scriptures on the opposite side. Included, are pages for prayer, blessings, vision as well as Scripture references.
PRICE: $25.00
AVAILABILITY: OUT OF STOCK
The Anointed Agenda is a practical tool for evangelism, encouragement as well as a simplistic way to keep God's Word and promises before you daily. The agenda features a leatherette wrap around cover over 62 sheets of 8.5" x 11" paper with wire-o-binding. The layout is two pages per week. Available in Black or Burgundy with pre-printed ½ hour times of day or without pre-printed times to allow for flexible scheduling.
Cover: Leatherette
Binding: Wire-O-Binding
December 30 : How wonderful it is to be reminded of God's rich truths in the midst of a busy schedule. Maura Gale's Anointed Agenda helps me organize my day and reminds me of my real priorities. Thank you, Maura! – Andrea Wiley, Executive Producer of Soulmate the Film January 3 : The anointed agenda planner book has been truly a blessing in my life. The inspiration it has provided to me has been powerful. I must have another to keep the "blessing" going. Thank you so so much Maura Gale. – Jerry Crane, Santa Monica
(CA)
January 8 : I have been a user of the Anointed Agenda for since 2008. Although I have previously used other agendas, the Anointed Agenda not only kept track of my schedule, but provided words of inspiration for those times of anxiety. I enjoyed the Anointed Agenda so much I purchase several every year for family members as Christmas gifts! – Ellery D. Mitchell